Nada Yoga Course
September 5
@
6:00 PM
–
7:00 PM
AEST
Nada Yoga Course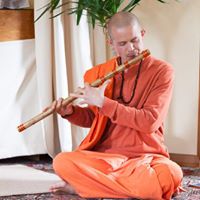 Starts Tuesday 5th September, 6 – 7pm
6 week course $120
Nada Yoga is the science of inner transformation and unity through sound and tone. This 6-week course will help you experience the transformative effects of the yoga of sound, led by Swami Madhuram Puri.
The course includes:
• using ancient Vedic mantras for your wellbeing;
• kirtan and bhajan chanting with translations and explanations provided;
• meditation using selected Nada Yoga techniques;
• a 'sound bath': deep relaxation with live bamboo flute music.
Live online classes for six Tuesday evenings in the comfort of your own home, via ZOOM.
6 – 7pm Melbourne time
This course has come because of requests from people like you who have experienced Swami Madhuram's music, chanting and singing of these yogic mantras and songs. As we know vibration has a subtle but profound influence on us, and the Nada Yoga helps us understand why, and how to utilise it for our wellbeing and personal growth.
Swami Madhuram is a sanyasi (monk) of Vishwaguruji Paramhans Swami Maheshwarananda. He has been recording music for meditation and relaxation under the title "Time for Peace".
Swami Madhuram Puri is a highly respected and inspiring yogi whose immersion in the authentic yogic practices and life has contributed to his deep insight and experiences.
Originally from Slovakia, he is now based at the Yoga in Daily Life Ashram on the Kapiti Coast in New Zealand, and leading many classes of yoga and meditation.